Found this
link for Google maps
on the Catholic Answers forum showing the odd mass animal deaths throughout the world ... interesting to say the least. Most of the dates are from 12/06/09 to present and most of them are in the USA.
Yet another Update on MORE dead fish ..
2 million fish found dead in Maryland


By the CNN Wire Staff
- January 6, 2011 9:37 a.m. EST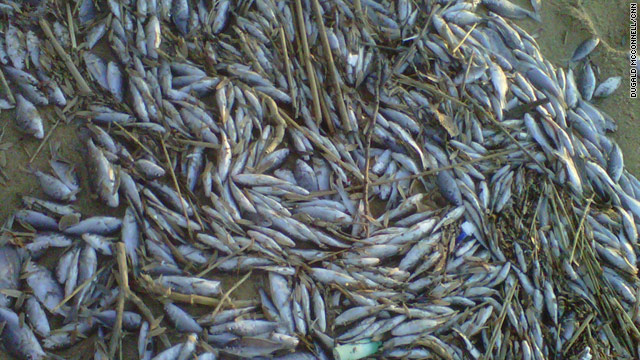 "Cold water stress" appears to be a factor in the deaths of about 2 million fish in
Chesapeake Bay, a Maryland agency says.
(CNN)
-- Authorities in Maryland are investigating the deaths of about 2 million fish in Chesapeake Bay.
"Natural causes appear to be the reason," the Maryland Department of the Environment said in a news release. "Cold water stress exacerbated by a large population of the affected species (juvenile spot fish) appears to be the cause of the kill."
The investigation comes days after the deaths of an estimated 100,000 fish in northwest Arkansas. Authorities suspect disease was to blame there, a state spokesman said.
In Maryland, preliminary tests showed water quality to be acceptable, officials said.
"The affected fish are almost exclusively juvenile spot fish, 3 to 6 inches in length," the Maryland department said. A recent survey "showed a very strong population of spot in the bay this year. An increased juvenile population and limited deep water habitat would likely compound the effects of cold water stress."
Large winter kills of spot fish have occurred at least twice before in the state, in 1976 and 1980, the department said.