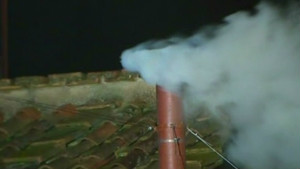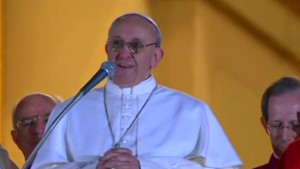 Pope Francis to followers: 'Here I am'
"It seems to me that my brother cardinals have chosen one who is from faraway. ... Here I am. I would like to thank you for your embrace."
Bergogolio, 76, is the first pope to take the name after St. Francis of Assisi, the patron saint of animals and ecology. St. Francis, who lived in the 12th century, is regarded with great respect among Catholics.
I am very encouraged that he does appear to be on th

e right side of things and is considered on the conservative side.
He has clashed with the government of Argentinian President Cristina Fernandez de Kirchner over his opposition to gay marriage and free distribution of contraceptives.
So now we wait ... we pray, we watch, we pray, we hope, we pray ... and then we pray some more. St. Francis was told to rebuild the Church by Jesus; let us hope that Pope Francis will do the same. Some say this is the false prophet and was sent

with this name to mockingly

tear the Church down ... time will tell and deeds will speak loudly.
He did not take the name Peter as Malachey's prophecy and the 'black' in the prophecy could be the connection with the Jesuits. It may also lend credence to the fact that

in the 1800's the list really was tampered with rendering it invalid after Benedict XVI. Either way, God in His heaven will do as He will do!
He seemed very humble and has a saintly reputation and lives in a simple manner. He is for social causes ... this gives me a little bit of pause that there may be room to try to sway him to attempt to change Tradition; which of course, no Pope can ever do. So, habemus Papam ... by his fruits let all know who he is.
So now we wait ... we pray, we watch, we pray, we hope, we pray ... and then we pray some more.
May God and our Lady keep us in Their care and with the power of the Holy Spirit protect and guide us all.