The Solemnity of the Assumption of Mary on August 15 has been a part of Christian faith-tradition from the earliest centuries. This feast emphasizes the universal dimensions of Mary's role in God's plan of salvation. We do not celebrate her exaltation in the sense of a removal from us, but as the fulfillment of what we all are called to be.
In 1950, Pope Pius XII defined Mary's Assumption into heaven as a dogma of Roman Catholicism: "the Immaculate Mother of God, the ever Virgin Mary, having completed the course of her earthly life, was assumed body and soul into heaven." The proclamation of this dogma was made in the encyclical: Munificentissimus Deus. After entering heaven, Mary has remained active in the life of the Church.
This feast of Mary celebrates a special privilege of Mary, our Mother. The Assumption means that she entered into the glory of heaven not only with her soul, but also with her body. The Son of God took His Body from Mary's pure womb. It was fitting, then, that her body should be glorified as soon as her life here on earth was ended.
Now Mary is in heaven. She is Queen of heaven and earth. She is the Mother of Jesus' Church and Queen of apostles. Every time Mary asks Jesus to give us graces, He listens to her request.
After the resurrection from the dead, we, too, can go to heaven with our bodies. If we use our bodies now to do good, those bodies will share in our heavenly reward.
After the resurrection, our bodies will be perfect. They will not be subject to illness anymore. They will not need any more food and drink to keep alive. They will be able to go every place without time or effort. They will be beautiful and splendid!
Let us not forget our dear Mother!
And still go to Mass or at least watch it on TV or Internet for those that are house bound .... and PLEASE don't forget to pray your ROSARY!



"Thank you Most Pure Mother for soiling your feet on the earth again and again to bring us Jesus and to lead us to Jesus. I praise your love and mercy that flows to us through your Flame of Love directly from the Source of Divine Mercy. I thank you for never giving up on us. Lead all souls to heaven, Beloved Mother, especially those God has given us to pray for, and especially those most in need of God's mercy. Amen." ~Janet Klasson



DAILY ROSARIES PLEASE!!!!
(Along with the Chaplet of Divine Mercy & the Chaplet of Unity)
The door of MERCY has already closed! But we can still pray for our friends and relatives that have turned lukewarm or left the Faith! Mercy will soon be over and then comes JUDGEMENT. Do you think that the centennial of Fatima, the locution that Pope Leo had, the Jubilee Year of Mercy, and all the signs in the sky are coincidental? God put us in this place in history for a REASON. We BEST get crackin' on the main objective which is still the same as it has been always ..... " LEAD ALL SOULS TO HEAVEN"!!!!
PLEASE! Pray for the martyrs in the Middle East, Asia, Africa, India, the Ukraine and all Muslim and Communist countries!
Read: Revelation 6:10-11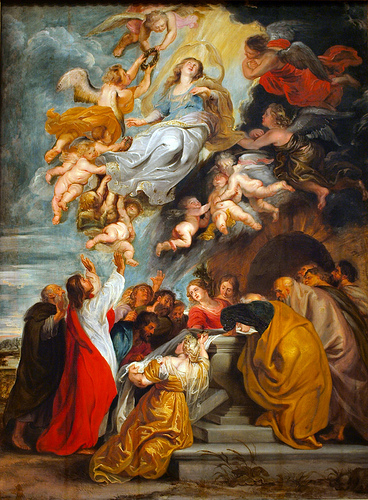 Father Bourdaloue, a famous preacher of the 17th century French court, said in a sermon on the Assumption:
Never was there a death more precious in the sight of God than that of the Virgin, because there was never a life more filled with merits than Hers. The death of the Blessed Virgin was precious not only by the merits which preceded it, but also by the graces and favors which accompanied it. But what made it precious in God's sight is above all the dispositions of mind and heart with which She received it... What then was Her disposition of mind? She envisaged death in the light of the purest faith, as the fulfillment of her wishes, as the means of being promptly reunited with Her Son and Her God, whose absence had for so long been a source of sorrow for Her. Her disposition of heart? Seeing death in this light, She desired it with all the ardor of the most fervent charity. Far more fervently than Saint Paul She longed to be disengaged from the bonds of the flesh, to live with Jesus Christ...
The bishop of Meaux, Bossuet, preaches in the same vein: If the great Apostle wants to break the bonds of the flesh to go to meet his Master at the Father's right hand, what must the emotion of a maternal heart be? ... And what regret had the Virgin not experienced, seeing Herself separated for so long from a Son whom She loved as She alone could love? ... She prayed, Ah, my Lord! permit my love to act! It will soon detach my soul from my mortal body, and transport me to You, in whom alone I live.' If you believe me, holy souls, you will not labor long to seek any other cause for Her death. This love, so ardent, so strong, so inflamed, could not utter a single sigh incapable of breaking all the bonds of that body; it did not send forth a single desire to heaven which did not take with it the soul of Mary. Ah! I said earlier that the death of Mary was miraculous; now I speak a little differently, and say that it is not so much Her death that is a miracle; Her death is rather the cessation of a miracle. The continuous miracle was that Mary could live, separated from Her Beloved.
We see from these texts why the departure of the soul of Our Lady is not termed a death like that of other mortals, but rather a dormition — a falling asleep in the Lord, as the early Christians called it. (Cf. Acts 7:60) All writers on the subject are unanimous — it was Her supreme love for God, nothing else, which was its cause. Tradition affirms that She knew in advance that Her departure was at hand, and prepared with incredible fervor for the holy moment, when She would hear the voice of Her Son say: Come to Your eternal repose, O blessed Mother: arise and come, You who are My Heart's friend, the most beautiful of women. The winter is over, the springtime begins; come, My all-beautiful one, My beloved; there is no stain in You; I prefer Your perfumes to all others.