Stanley Villavicencio is a Filipino from Cebu who travels all around the world to give his amazing testimony: that he died, and lived again for Divine Mercy.
On the morning of 2 March 1993, Stanley's mother-in-law saw him convulsing in bed, mouth frothing, vomiting blood, and with hardly any pulse. He was rushed to the emergency room of Chong Hua Hospital in Cebu City.
Stanley's father and sister, both doctors, together with four Cebu medical specialists, concluded that nothing could be done to save Stanley. During the three days that he was in a coma and pronounced clinically dead, Stanley shared that Jesus appeared to him, showed to him a film of his entire life, then told him that he needed to go back to the world to propagate the devotion to Divine Mercy.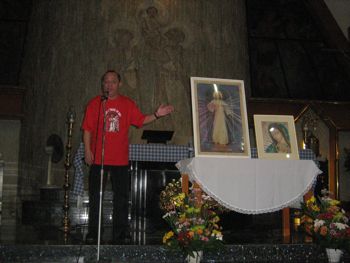 Thus, on the third day, Stanley suddenly sat up and took out all of the life support systems attached to him. The nurse who was monitoring him ran away terrified. Stanley was found completely normal. The lead doctor, who proclaimed the case a miracle, was so touched by the experience that he decided to enter the priesthood.
Stanley's case was thoroughly examined by the Vatican. Stanley quit his job and now goes all around the world proclaiming his testimony on the Divine Mercy a full-time basis, with the blessings of the Church hierarchy and under the guidance of Cardinal Ricardo Vidal of Cebu.
Fruits of His Testimony
Stanley's testimony has touched the lives of numerous people. A Central Bank employee, conscience-stricken after hearing Stanley's testimony, decided to return the P400,000 (approximately $8,000) he stole from the bank. A group of prisoners in a jail in Agusan del Sur, who were previously planning to stage a riot, repented after hearing Stanley's talk. In Cebu, a very depressed Aglipayan woman, who invited Stanley to give a talk in their church, changed her mind on plans to commit suicide, after hearing his testimony.
Muslims and Protestants alike have been moved. He has been invited to speak in many countries on his experience, and the Divine Mercy devotion. In Mexico, in the Shrine of Our Lady of Guadalupe, Stanley spoke to thousands of people and hundreds of priests and bishops.
The amazing fruits of Stanley's testimony, as well as the medically-unexplainable manner with which he recovered from a state of clinical death, provide us with ample reason to believe in the authenticity of his experience, and provides a powerful witness to the Divine Mercy devotion.
"You Will Witness My Final Coming!"
Stanley continued to receive messages from Jesus in his dreams, even after his initial encounter with the Lord. On 31 August 1994, he received this striking message: "My son, you will witness My final coming."
If then we are to believe that Stanley's mission is authentic, then Jesus has given us, through Stanley, a message that is so profound and so intense that it ought to do nothing less than shake us to the core and wake us up: the Second Coming of Christ will happen in Stanley's lifetime!
Stanley, born in 1953, is now 56 years old. According to the CIA World Factbook, the average life expectancy of Filipinos, as of 2008, is 70.8 years, with males averaging 67.89 years. If Stanley lives according to the overall Filipino male average, then he has approximately ten years to live. If he is healthy, and manages to live until the ripe old age of 90, then he has approximately 33 years to live. That means, based on Jesus' statement to Stanley that he will witness the Lord's final coming, the Second Coming of Christ may very well happen anywhere in the next 10 to 30 years!
Numerous other private revelations have talked about the proximity of the Second Coming of Christ and the need for mankind to repent in preparation for "the great day of the Lord". In recent apparitions and private revelations, such as Our Lady's messages to Fr. Gobbi of the Marian Movement of Priests, as well as the apparitions in Akita, Africa and Medjugorje, Our Lady emphasized the urgent need to repent since time is "running out".
It should be noted also that the Lord Jesus said to St. Maria Faustina Kowalska of Poland: "You will prepare the world for My final coming… let all mankind recognize My unfathomable mercy. It is a sign for the end times; after it will come the day of justice." (St. Faustina's Diary: Divine Mercy in My Soul)
Preparation for the Second Coming of Christ
In the messages to Stanley, as well as in the messages given to St. Faustina, Jesus emphasized that the Divine Mercy devotion is a preparation for His Second Coming. In His message to Stanley on 1 April 1996, Jesus said: "…proclaim My Mercy to all souls, the days of the earth are so short now, so the duration of this devotion will soon come to an end."
Likewise, in his 4 October 1996 message: "Blessed are those who take advantage of My Mercy while it is still the Day of Mercy, but beware, the Day of Judgment is sooner than everyone thinks."
Time to Prepare!
If Jesus' imminent return to the world is near, then our foremost priority should be to prepare for this momentous event! Just like a basketball game, we are in the "last two minutes" — only this time the stakes are much, much higher: the fate of our souls for all eternity.
How do we prepare then? The answer, of course, is prayer, particularly the prayers recommended by Jesus the Divine Mercy Himself. Jesus admonishes us to pray the Chaplet. He said to Stanley: "Pray, pray the Chaplet and recommend it to all, as the last hope of salvation. Encourage people to pray the Chaplet without ceasing." This message of praying the Chaplet without ceasing was repeated to Stanley numerous times: "Pray, pray, the Chaplet without ceasing, it will be a shield against the enemies."
Note that Jesus did not say "pray the Chaplet daily." He encourages us to pray the Chaplet without ceasing. If we are prepared, the Second Coming of Christ should not be a cause for worry or fear but a source of boundless hope and joy! For at last, the time will come when all our toils and sufferings in this world will end; when sickness and death will be no more; when emotional pains and hurts will cease. If we prepare well, it will be the magnificent moment when we will at last claim our glorious crown, and will say with St. Paul (2 Timothy 4:1-8):
I have fought the good fight, I have finished the race, I have kept the faith. From now on there is reserved for me the crown of righteousness, which the Lord, the righteous judge, will give me on that day, and not only to me but also to all who have longed for his appearing.
by Arthur Policarpio