Just a little update on what's going on with wires, stones, new stuff and old stock :) We're approaching Graduation and Father's Day, Weddings and many other commemorative times during the summer months. I wanted to let you all know I have a LOT of stock that's waiting to jump onto wire and be a treasure for you or a loved one and lots too that is already up on the
site
and waiting to find a new home! Please note that the
website's navagation is the blue vertical bar on the left
which opens to expand for links in and outside of
BattleBeads
. There's almost 4 pages of rosaries and a fairly good selection of
chaplets
. If you know of a devotion or chaplet that's not listed, just let me know and I'll add it along with the instructions. There's also a section for
Adornment
which includes religious and secular items such as bracelets, necklaces, earrings and finger/toe rings. Many things available on the site,
if it can be made with beads, wire or cord, I'm your gal! ;)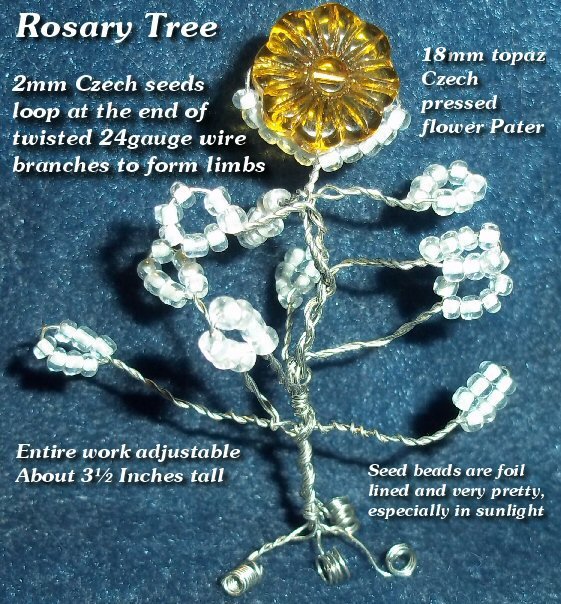 Also a section for a bit out of the
unusual
. I've designed some unusual rosaries which incorporate all the 59 beads, yet have a different look and style than what you might be used to seeing. You'll either love 'em or hate 'em! There are 'Peace Wheels', Rosary Tree's and more that are decorative as well as functional! This is the home of the
"Papa's Prayers®"
rosary addition! How often do we forget the Pater, Ave and Glory for the intentions of the Pope after the rosary? Well just clip this little addition on your rosary and never forget again! LOL I also take special orders and have been known to work with folks to literally make their dreams come true! More than one person has approached me after having a dream about an item and we worked together until the design came out just right! I really enjoy the challenge of that particular aspect of designing and welcome any suggestions, ideas or dreams you may want to share and have brought to life!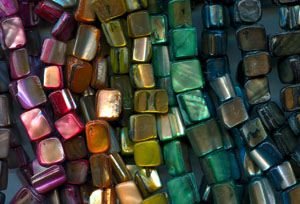 I also have some nice shell rectangles and 6mm India glass beads in purple, aqua, green and white which would make very nice pieces. Actually, I have enough beads here in my little leaky roofed home to keep several small armies in rosaries and chaplets for eons ... well at least a decade at any rate! Semi-precious stones as well as Swarovski Crystals, Czech druks and crystals, Hematite, Lapis Lazuli, Denim Lapis, Quartz, Aventurine, Jade, Onyx and on and on ... oh just too much to mention. And if I don't have what you want, I'll special order it.
"I always do my best to accommodate requests!"
Just ask my customers
:)
Other Religious Items page
along with other artisan products and perhaps some resale items as I come across them. If I see something that I know I can pass along for a good price, it will be on this page with the rest. There seems to be so much more to say, but I don't want this to turn into a book, so, I'll just keep you updated here as thoughts or stock changes! If you got this far, thanks for your time and may God bless you and yours!
Oh I couldn't close without mentioning the USA Chaplet. This is a fairly newly Church approved devotion that may now be freely disseminated among the faithful all over the world. There is a long version and a short version. It receive the Nihil Obstat in April 2010 and I think it's very important for the times in which we live. The nice thing about it is that it can be for ANY COUNTRY, by simply changing USA to whatever country you wish to pray for. The prayers also begs mercy for the faithful, lukewarm, fallen away, those that don't know God and those that can't speak for themselves. Please take a moment to review the new prayers which I believe are sorely needed today. There is no need to buy beads for this devotion. I've had beautiful 4x6 laminated cards printed up with instructions and even provided a file on the site where you can copy and print your own up for free! The main objective here is to get the prayers said, not sell beads!
Thanks again and God bless!