I can barely contain myself today. Memorial Day when we honor our heroic dead and those serving currently to keep us FREE (for however long THAT will be). I was told by a friend that a Palestinian vessel bringing aid to Gaza had attacked an Israeli ship with clubs, knives and then actually took some Israeli guns from them and began shooting them. The Israeli's NATURALLY fought back and ultimately killed 9 or several of them along with their own moderately to severly wounded. There was supposedly FOOTAGE OF the Palestinian's attacking with clubs and knives.
Next thing I hear is how Israel is CONDEMNED for their assault on a Palestinian aid vessel.
I'm blinking my eyes here and shaking my head! Is Israel not permitted to DEFEND HERSELF? WHY is everyone forgetting the CAUSE OF THIS INCIDENT? Same as when Iran was firing rockets into Israeli homes .. RESIDENTIAL HOMES ... they were chastised for attempting to defend themselves then as well. I guess Israel is supposed to permit ANYONE to do ANYTHING to them and SMILE and invite them to do MORE DAMAGE? WHAT'S THE FRIGGIN DEAL HERE FOLKS?
WHY IS NO ONE STANDING WITH ISRAEL?????
The Bible tells us that all kings and nations will be against Israel, well we're seeing it .. this is the beginning folks. If people don't BEG their Diocese, Bishops and Priests (as well as THEY THEMSELVES) to do this PUBLIC PENANCE we DESERVE what we get!
If Israel stands alone and Iranian threats to their ultimate survival continue (as they have since Ishmael and Haggar left Abraham's camp) ... what choice will Israel have BUT to attack Iran before they are "removed from the face of the earth that their name be no more remembered"?? If we don't see a strike by July, I will be VERY surprised. Folks may wanna brush up on Ezekiel 38, Matthew 24 ... ah well .. most of you know where to look.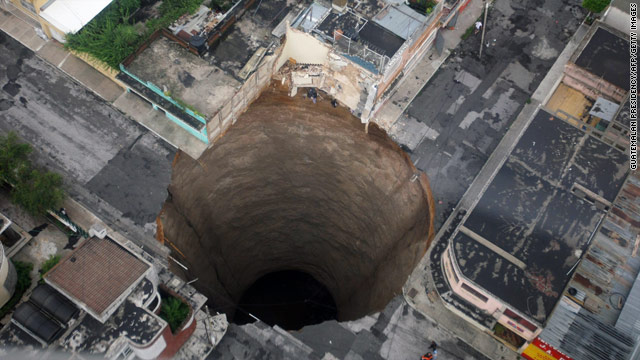 Then I see this story about a TROPICAL STORM that punched a HOLE in an intersection of a neighborhood in Guatemala ... HOW can a STORM make such a round symmetrical hole???
http://www.cnn.com/2010/WORLD/americas/05/31/honduras.storm.emergency/index.html?hpt=T1
We have ignored God too long. He gave us MUCH and we demanded MORE from Him while throwing Him *BONES* .. and sometimes, He was lucky to even get THAT much from us!
Are we waiting to tell the MOUNTAINS TO FALL ON US AND HIDE US???? WHAT ARE WE WAITING FOR!?!??!
PEOPLE ... PLEASE in the NAME OF GOD ALMIGHTY ... PLEASE start PRAYING AND DOING
PENANCE
LIKE NEVER BEFORE! Our lives and more importantly our IMMORTAL SOULS DEPEND ON IT!
HOW ON EARTH DOES A STORM
DO THIS?
As it stands right now, I feel if I do anything other than pray, I'm wasting my time here on earth.